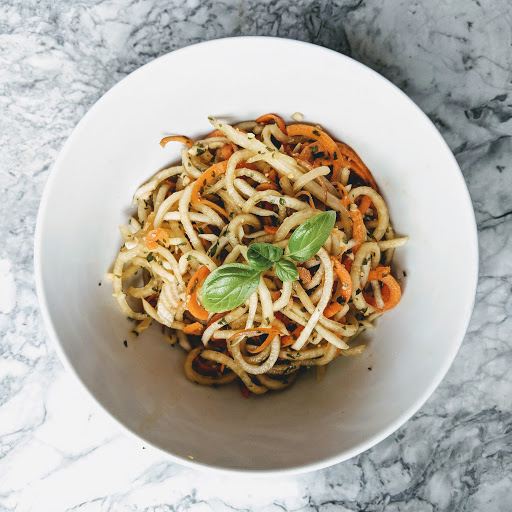 Have you ever wondered what some of those strange vegetables are heaped on tables in Asian markets? I have been seeing a TCM doctor/acupuncturist lately and due to a sore throat she recommended a spicy radish that I eventually identified as Daikon.
They are spicy with quite a kick to the back of the throat (which I assume is good in killing off bacteria) but also a cool, crispy texture. The daikons at our local store were huge and I was wondering what I would do with an entire Daikon, since the instructions medicinally were to eat 5 slices before a meal. I ended up experimenting and came up with this delicious, refreshing salad!
Daikon Carrot Salad w/ Sesame Garlic Dressing
1 large daikon radish  (8-9" long, 2" diameter) peeled & spiralized OR cut in matchstick pieces
1 large carrot, spiralized or shredded
2 cloves garlic, finely chopped
2 T. freshly squeezed lime juice (1-2 limes depending on their size & juiciness)
¼ c. chopped fresh parsley
2 T. roasted sesame oil
1 T. tamari soy sauce
2 packets stevia powder (or 2 T. maple syrup or other sweetener to taste if you don't like stevia)
After spiralizing your daikon (alternatively, you can cut it into matchstick pieces or use a peeler to make "noodles") you might want to cut up the pieces into shorter bits as the spiralizer makes a never-ending strand! For my salad I used two different spiralizers. The first one is a white plastic gadget that comes apart into two pieces. It makes round "spaghetti" shaped strands but removes a 1/2″ core from whatever vegetable you are spiralizing. For that reason, the vegetable (zucchini, sweet potato or daikon) needs to be fairly large in diameter, at least 2″. The second spiralizer I own is a smaller green plastic Benriner which makes more of a flat fettucine style noodle. I like to use the latter for carrots and smaller vegetables.
In a large bowl, place the strands or grated pieces of radish and carrot. Pour all other ingredients over the top and toss until mixed together.
Enjoy your salad!