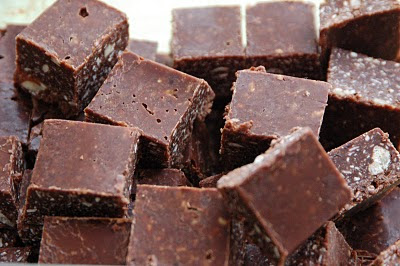 Here is a recipe for a super delicious yet nutritious treat. Keep in mind that despite their potent nutritional profile, these chocolates are still pretty calorific – they are not greens, so don't partake of unlimited quantities! I know I ended up tasting quite a bit of this mixture while testing the recipe. That is one great thing about raw food – you can eat it at any stage of preparation.
Raw Fudgy Chocolate Fruit and Nut Macaroons
1 c. coconut oil
1/2 c. coconut syrup or raw honey (will be sweeter)
3/4 c. raw cacao powder
4 dates
2 c. coconut
2 c. walnuts
2 c. almonds
1/2 c. raisins
1 tsp. vanilla
pinch salt
1. Whisk together the softened or melted coconut oil (I used the dehydrator to liquefy) with the agave nectar and the raw cacao powder. Stir in 1 tsp. vanilla extract and a pinch of salt.
2. Soak the dates in the above mixture for at least 1/2 hour. Dates add sweetness and a chewy, fudgy texture to the recipe. I also soaked the almonds overnight in water (and the walnuts for a few hours), then drained and rinsed the nuts and dehydrated them so they would be crispy. You can just use the nuts as they are, but soaking improves their digestibility. You can also roast them in the oven – "raw" almonds in North America are not truly raw any more, sadly, unless you buy organic almonds (very expensive) specially imported from Spain, so you won't be destroying any enzymes by heating California almonds.
3. In the bowl of your food processor, chop the walnuts and almonds. Add the coconut and pulse to mix. Pour in the liquid chocolate mixture and the raisins and process until just combined.
4. Pour into a 8×8 pan (I used silicone) and use a spatula to level the mixture. Place your pan in the fridge or freezer. Once it solidifies, remove from pan and cut into 1″ cubes. Store in a sealed container in the freezer or refrigerator.
Try to resist eating one every time you pass the fridge.