Every fall, I look forward to discovering new and exciting health products at the Canadian Health Food Association, CHFA East conference and trade show. In the photo you can see some of my faves!
I somehow missed featuring the shampoo on the tray above in my upcoming videos and wanted to mention it. A natural shampoo without harmful chemicals, that also leaves hair and scalp feeling great, is difficult to find. I loved this one – Carina Organics Pink Grapefruit Shampoo and Body Wash, which contains a natural essential oil scent that is divine! It is free of synethetics, parabens, dyes, soy, gluten and cruelty, is hypoallergenic and 100% biodegradable.
For more details about why these new products are so great, stay tuned for my upcoming videos!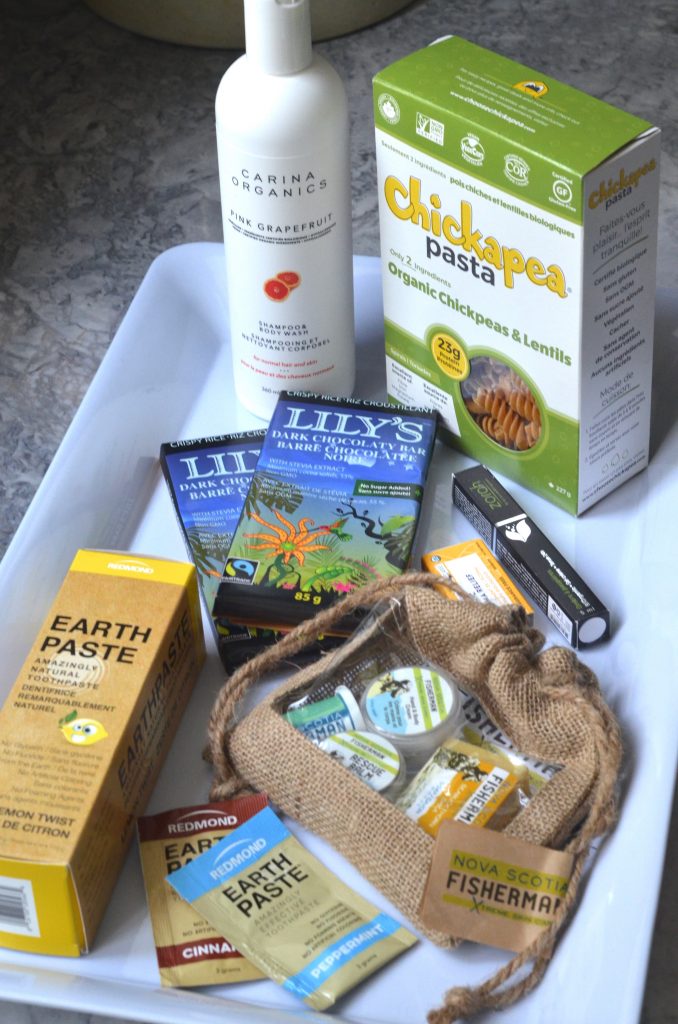 Here are links to the products shown above, so you can see what else they have to offer:
Zorah Biocosmetiques (my silver eyeshadow)
What makes it special: 100% organic, made with argan oil (high in Vitamin E and fatty acids which won't clog pores), vegan, gluten-free, no parabens/sulfates or other bad stuff, contains potent, natural ingredients to protect the skin and neutralize free radicals. Both skin care and cosmetic lines.
Carina Organics (pink grapefruit shampoo & body wash)
What makes it special: see above!
Nova Scotia Fisherman (kelp-based personal care products)
What makes it special: infused with nutrient-rich kelp containing antioxidants and other highly beneficial properties to firm, revitalize and heal skin – great lip balms, soaps, salves and lotions!
Lilly's Sweets (stevia-sweetened chocolate)
What makes it special: Completely sugar-free, low-glycemic, non-GMO, fair trade chocolate that actually tastes delicious! No bitter stevia aftertaste. Completely guilt-free treat.
Chickapea Pasta (pasta made from 100% legumes)
What makes it special: The only ingredients are chickpeas and lentils. One small serving provides a ton of protein – 23 g! It is organic, vegan, gluten-free, non-GMO with no added sugar.
Earthpaste (natural toothpaste without fluoride, glycerin or foaming agents)
What makes it special: Made from clay, salt, essential oils and xylitol, a sweetener that is really great for your dental health. Contains no glycerin (very rare, even in health store brands of toothpaste), no fluoride, no foaming agents and no artificial colouring; comes in peppermint, cinnamon, spearmint, wintergreen and my personal favourite, lemon twist!
Satya Organic Eczema Relief (fragrance-free, non-toxic, anti-inflammatory, non-steroidal cream)
What makes it special: Developed by a mom to treat her child's eczema, this is a wonderful product to have on hand to treat skin irritation of any kind. Contains only ORGANIC calendula, sweet almond oil, beeswax, colloidal oatmeal and jojoba. Comes in a tiny, cute metal tin to keep in your purse, as well as the full-size product.
*NOTE: I chose all of these products based on what I found new and interesting – there are no affiliate links, this is my unbiased personal opinion about them.