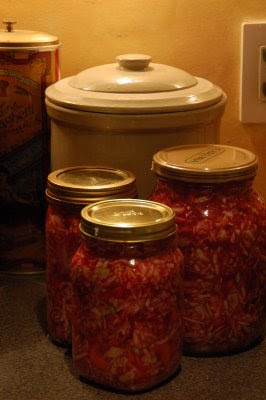 I have been experiencing a few digestive issues of late, so while searching for natural cures, I stumbled upon a book, The Body Ecology Diet by Donna Gates, that recommends cultured vegetables for their good bacteria. This is an excellent alternative for people who do not wish to use dairy products like yogurt and kefir.
The cultured veggies are also loaded with trace minerals and enzymes.
Here is the results of my labour – two quart jars, one larger jar and a crock. I used the pusher that came with my VitaMix blender to pack down the vegetables – as you do this, liquid begins to form in addition to the brine. The crock has a porcelain plate and a large ziploc bag filled with water on top of that to seal the contents and weight the plate so the brine completely covers the shredded vegetables.
I used a giant cabbage from a local farmer's market, some fresh carrots and beets. For the brine, I blended a couple of cucumbers, about 1/2 cup of water, a clove of garlic, half a small red onion, a couple of tablespoons of salt and a heaping tablespoon of miso (which is a fermented product containing beneficial bacteria) which I thought might help get the process started.
CLICK HERE FOR A VERY GOOD TUTORIAL, WITH PICTURES, ON HOW TO MAKE CULTURED VEGETABLES!
I also found a couple of youtube videos on the same subject:
http://www.youtube.com/watch?v=u3vDTh9j354

http://www.youtube.com/watch?v=FZAsyzHHh-s
There seems to be some debate about whether you should use salt – I did because I am a little nervous about spoilage without it. Also, the starter referred to in some instructions is not necessary – the fermentation will occur without it. This is my second batch – my first was very delicioius, sour and crunchy. I ate it with a sesame miso dressing containing oil high in good fatty acids.