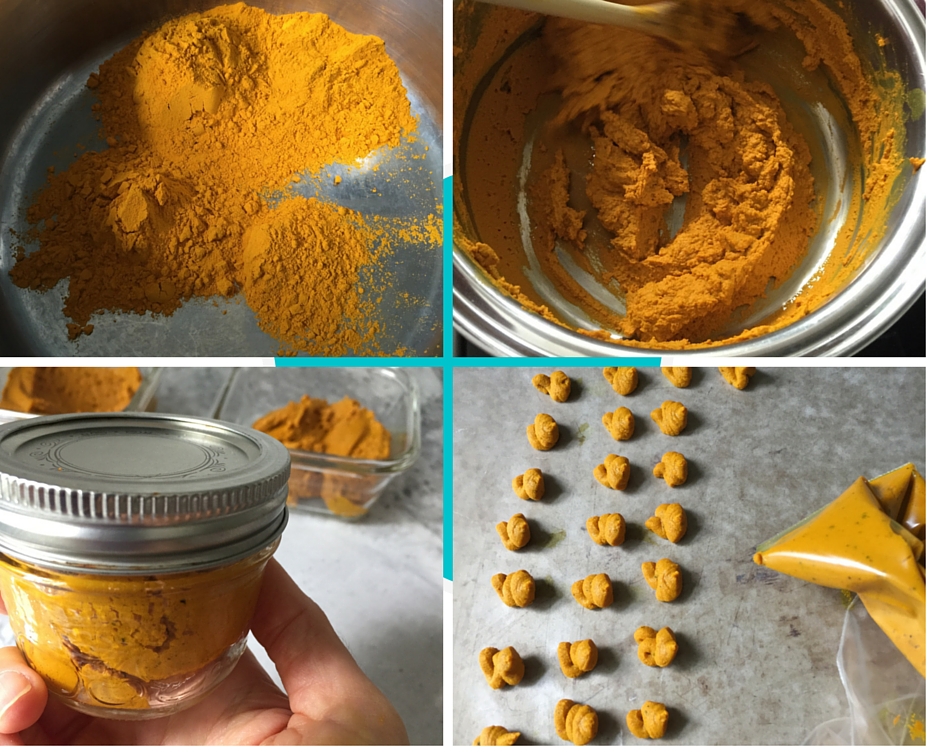 You can purchase supplements made with turmeric and other ingredients for big bucks, or you can make your own and some some money! Curcumin, the main active ingredient in turmeric, has anti-inflammatory and antioxidant properties that studies have shown to be effective for disease prevention.
This recipe makes enough golden paste to use in cooking, in drinks and smoothies, as a condiment or applied to skin as a poultice (beware, this can be messy – I use a lot of plastic wrap and then socks I don't care about when I put this on my feet.) I froze half of the batch, since this only keeps for a few weeks in the fridge.
Golden Paste
1/2 c. organic turmeric powder
1 1/2 c. water (have more available to dilute, if needed, & extra powdered turmeric in case it gets too thin)
2 tsp. freshly ground pepper (contains piperine – exponentially increases absoprtion, up to 2000%!)
1/3 c. extra-virgin coconut oil (enhances bio-availability of curcumin & maintains freshness)
Put the powdered turmeric in a medium size saucepan and gradually add water to form a paste. You may need slightly more water, so have some handy to use if needed. Stir continually over medium low heat for 8-10 minutes.
Remove pan from heat and stir in coconut oil and ground pepper.
Using a silicone spatula, scrape your paste into clean glass containers to store in fridge or freezer; alternatively, you can try piping (or spooning if you want larger piles) some to freeze in small portions and then store in container in freezer.
I also decided to pipe some small nuggets onto a sheet of wax paper over a cookie sheet in order to have easily accessible small amounts to either swallow whole like a pill or unthaw quickly for future use. All you have to do is fill a ziploc bag, cut about 1/8″ diagonally across a corner and squeeze out!  Place the cookie sheet in the freezer and once the nuggets are completely frozen, put them in a labeled container in the freezer.
Golden paste is great for animals too, although my cats turned their noses up at it – I think maybe leaving out the ground pepper might be a thought for some finicky palates. The starting dose for everyone, animal and human, is 1/4 tsp. taken several times per day.
Take a really brief (10 second) look at how quick, easy (and fun) this is below: