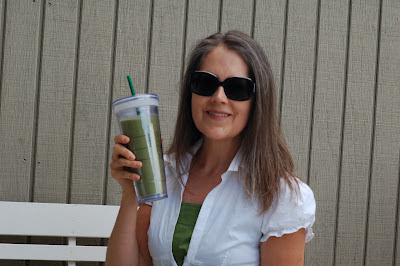 Green Smoothie to match my green dress!
Apparently, on the streets of New York City, where trends are made, green drinks are the new cool beverage of choice. People are seen walking about with green juice in hand rather than the ubiquitous Starbucks. Now that is a fad I can get behind! If you would like to make your own tasty green smoothie, here is a great choice:
Green Mango Banana Hemp Smoothie
1 c. mango chunks (frozen works well)
1/2 to 1 banana or 1/2 avocado (depending on your sweet tooth and for creaminess)
2 c. romaine lettuce (torn into pieces and packed into the measuring cup)
1 T. hemp seeds
1 tsp. maca powder (an adaptogen, very good for feeling calm)
a squeeze of lime juice
1 tsp. vanilla extract
1 scoop Vanilla Sun Warrior Protein or another T. hemp seed + stevia to taste
4-6 ice cubes
Blend up and enjoy!
(I like to add the protein powder after everything is already smooth to avoid denaturing the protein.)