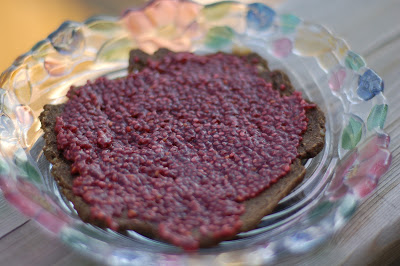 Breakfast: Raw Cinnamon Toast with Raw Raspberry Jam
I am feeling very virtuous this morning, haven partaken of a totally raw yet scrumptious breakfast while sipping my green tea. This is so easy to do – just mix up a combination of ground nuts and seeds and dehydrate overnight. My mixture was as follows:
Raw Cinnamon Toast
1/2 c. finely ground chia seed
1/2. c. finely ground walnuts
1/2 c. mesquite powder
1/4 c. maca powder
1/4 c. vanilla sunwarrior protein powder
1 T. cinnamon powder (I prefer ceylon)
pinch of sea salt (himalayan or celtic)
2 c. water
1 medium size ripe banana
1. Grind the chia and walnuts in your coffee grinder or blender. I usually do it in 1/2 to 1 cup batches.
2. In a medium size bowl, whisk together the ground chia, walnuts, mesquite powder, maca powder, protein powder, cinnamon and a pinch of salt. If there are lumps, you may want to put this through a sieve. You may have a few tiny chunks of nuts left in the sieve, but just toss them back into the bowl – the sifting is more to break up any chunks of chia powder.
3. In your blender, add chunks of banana to the water and blender until smooth.
4. Pour liquid ingredients over the dry in your bowl and whisk until smooth.
5. Scoop the mixture onto dehydrator paraflexx mats and use a spatula to form circles about 1/4″ thick.
6. Dehydrate for an hour or two. Peel them off the mat and put directly on the screen to finish dehydrating – total time will be around 6 hours, depending how thick you make your "toast".
This recipe makes about 10 4″ "toasts".
The jam is a mixture of blended pomegranate juice, frozen raspberries, stevia and whole chia seed!
Yum!